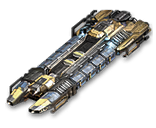 Retriever
Tech Level: VII

ORE
---
The Retriever is one of the barges designed by ORE with the aim of pushing the mining industry to new heights. Each barge was created to excel at a specific function, the Retriever's being their storage space. A massive ore hold allows the Retriever to operate for extended periods of time without requiring as much support as other mining barges.
Mining barges are equipped with electronic subsystems specifically designed to accommodate Strip Mining modules.
Bonuses
Role Bonus
+1 Max Strip Miners
+1 Warp stability
Strip Mining Bonus per Lv.
Advanced Industrial Ship Command Bonus per Lv.
+10 EHP
+5 Ore Hold Capacity
Attributes
Can be insured: No
Cargo Hold Capacity: 900 m3
Ore Hold Capacity: 24,000 m3
| | |
| --- | --- |
| Powergrid Output | 660 MW |
| High Slots | 2 |
| Mid Slots | 2 |
| Low Slots | 3 |
| Drone Slots | 2 |
| Engineering Rig Slots | 3 |
| Powergrid Rig Slots | 3 |
Defense: 10,586
 
Shield
2,872 / 40,000 S
Armor
1,958
Structure
3,693
Electromagnetic
0.00%
60.00%
33.33%
Thermal
20.00%
35.00%
33.33%
Kinetic
40.00%
25.00%
33.33%
Explosive
50.00%
10.00%
33.33%
Capacitors: 2,244 GJ
Capacitor Recharge Time
654 S
Max Capacitor Recharge Rate
8.6 GJ/S
Max Locked Targets: 8
Signature Radius
128.9 m
Scan Resolution
550 km
Sensor Strength
10.4
Flight Velocity: 168 m/s
Warp Speed
3 AU/s
Mass
20,000,000 kg
Inertia Modifier
0.5 times
---