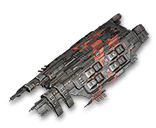 Drake E-War
Tech Level: X

Caldari
---
For a long time, modifications to the electronic equipment of battlecruisers had failed to achieve any major improvements, until mysterious forces arrived in New Eden, bringing with them new technologies like nothing seen before. Now, even larger ships can provide effective electronic warfare capabilities.
Bonuses
Role Bonus
+25 Flight Velocity
+1 Command Burst module slots
Advanced Medium Missile/Torpedo upgrade Bonus per Lv.
+16 Kinetic Damage
+16 Thermal Damage
Advanced Battlecruiser Command Bonus per Lv.
+4 Shield Resistance
+10 Jammer Strength
+10 Optimal Range
Attributes
Can be insured: No
Cargo Hold Capacity: 900 m3
| | |
| --- | --- |
| Powergrid Output | 778 MW |
| High Slots | 7 |
| Mid Slots | 4 |
| Low Slots | 5 |
| Drone Slots | 1 |
| Engineering Rig Slots | 3 |
| Powergrid Rig Slots | 3 |
Defense: 24,323
 
Shield
8,756 / 102,700 S
Armor
5,911
Structure
6,000
Electromagnetic
0.00%
50.00%
33.33%
Thermal
20.00%
44.75%
33.33%
Kinetic
40.00%
25.00%
33.33%
Explosive
50.00%
10.00%
33.33%
Capacitors: 2,823 GJ
Capacitor Recharge Time
576 S
Max Capacitor Recharge Rate
12.3 GJ/S
Max Locked Targets: 7
Signature Radius
204 m
Scan Resolution
227 km
Sensor Strength
24.7
Flight Velocity: 188 m/s
Warp Speed
3.7 AU/s
Mass
13,500,000 kg
Inertia Modifier
0.49 times
---