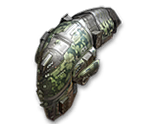 Vexor Navy Issue
Tech Level: VI

Gallente
---
The Navy Issue edition of the Vexor cruiser was originally designed with highly advanced equipment on board, which would require a very experienced crew to operate. However, the original proposal was dropped in favor of a much simpler solution: thicker armor, better shields, and an enhanced hull and drone bay. The result is a monster of a combat cruiser that is capable of trading blows with any enemies of freedom across the New Eden cluster.
Bonuses
Advanced Medium Drone Operation Bonus per Lv.
+12 Damage
+5 EHP
+3km Drone control range
Advanced Cruiser Command Bonus per Lv.
–5 Inertia Modifier
+5 Scan Resolution
+5 Sensor Strength
Attributes
Can be insured: No
Cargo Hold Capacity: 960 m3
| | |
| --- | --- |
| Powergrid Output | 515 MW |
| High Slots | 2 |
| Mid Slots | 3 |
| Low Slots | 4 |
| Drone Slots | 5 |
| Engineering Rig Slots | 2 |
| Powergrid Rig Slots | 2 |
Defense: 11,913
 
Shield
2,846 / 35,600 S
Armor
3,433
Structure
3,502
Electromagnetic
0.00%
50.00%
33.33%
Thermal
20.00%
35.00%
33.33%
Kinetic
40.00%
36.25%
33.33%
Explosive
50.00%
10.00%
33.33%
Capacitors: 2,717 GJ
Capacitor Recharge Time
486 S
Max Capacitor Recharge Rate
14.0 GJ/S
Max Locked Targets: 7
Signature Radius
105.9 m
Scan Resolution
303 km
Sensor Strength
17.8
Flight Velocity: 253 m/s
Warp Speed
3 AU/s
Mass
11,310,000 kg
Inertia Modifier
0.32 times
---