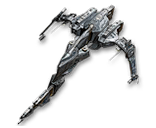 Caracal Navy Issue
Tech Level: VI

Caldari
---
Designed specifically to counter the ever-increasing numbers of pirate invaders in Caldari territories, the Navy Issue Caracal has performed admirably in its task. Sporting added defensive capabilities as well as increased outfitting potential, it is seeing ever greater use as a defender of the homeland.
Bonuses
Advanced Medium Missile/Torpedo operation Bonus per Lv.
+5 Flight Velocity
–2 Activation Time
Advanced Cruiser Command Bonus per Lv.
+5 Flight Velocity
+5 Scan Resolution
+5 Sensor Strength
Attributes
Can be insured: No
Cargo Hold Capacity: 900 m3
| | |
| --- | --- |
| Powergrid Output | 586 MW |
| High Slots | 5 |
| Mid Slots | 3 |
| Low Slots | 4 |
| Drone Slots | 1 |
| Engineering Rig Slots | 2 |
| Powergrid Rig Slots | 2 |
Defense: 11,511
 
Shield
4,144 / 47,700 S
Armor
2,797
Structure
2,840
Electromagnetic
0.00%
50.00%
33.33%
Thermal
20.00%
44.75%
33.33%
Kinetic
40.00%
25.00%
33.33%
Explosive
50.00%
10.00%
33.33%
Capacitors: 2,056 GJ
Capacitor Recharge Time
504 S
Max Capacitor Recharge Rate
10.2 GJ/S
Max Locked Targets: 7
Signature Radius
110 m
Scan Resolution
276 km
Sensor Strength
18.9
Flight Velocity: 234 m/s
Warp Speed
3 AU/s
Mass
9,600,000 kg
Inertia Modifier
0.38 times
---