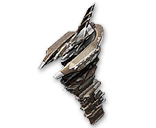 Myrmidon Command
Tech Level: VIII

Gallente
---
Battlecruisers' excellent adaptability makes them the most common vessels in New Eden's large scale battles. The Federation Navy attempted to use the Myrmidon as the fleets communication and command ship. The decision was highly praised by naval officers, which resulted in increased modification orders at Duvolle Labs.
Bonuses
Role Bonus
+20km Drone control range
+1 Command Burst module slots
Skirmish Command Bonus per Lv.
+3 Burst Strength
+2 Burst Strength
+5 Effective Range
Advanced Battlecruiser Command Bonus per Lv.
+7.5 Armor Repair
+40 Damage
+5 EHP
Attributes
Can be insured: No
Cargo Hold Capacity: 800 m3
| | |
| --- | --- |
| Powergrid Output | 675 MW |
| High Slots | 3 |
| Mid Slots | 4 |
| Low Slots | 4 |
| Drone Slots | 4 |
| Engineering Rig Slots | 3 |
| Powergrid Rig Slots | 3 |
Defense: 20,666
 
Shield
4,938 / 58,400 S
Armor
5,956
Structure
6,074
Electromagnetic
0.00%
50.00%
33.33%
Thermal
20.00%
35.00%
33.33%
Kinetic
40.00%
36.25%
33.33%
Explosive
50.00%
10.00%
33.33%
Capacitors: 2,663 GJ
Capacitor Recharge Time
522 S
Max Capacitor Recharge Rate
12.8 GJ/S
Max Locked Targets: 6
Signature Radius
260.1 m
Scan Resolution
222 km
Sensor Strength
20.7
Flight Velocity: 236 m/s
Warp Speed
3.7 AU/s
Mass
13,000,000 kg
Inertia Modifier
0.54 times
---