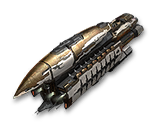 Abaddon
Tech Level: X

Amarr
---
The Abaddon class ship is a celestial tool of destruction. It is designed to enter combat from the outset, targeting enemies at range and firing salvo after salvo at them, and to remain intact on the battlefield until every heretic in sight has been torn to shreds.
Bonuses
Large Laser Operation Bonus per Lv.
+7.5 Damage
+5 Optimal Range
Battleship Command Bonus per Lv.
Attributes
Can be insured: No
Cargo Hold Capacity: 1,050 m3
| | |
| --- | --- |
| Powergrid Output | 13,972 MW |
| High Slots | 8 |
| Mid Slots | 4 |
| Low Slots | 6 |
| Drone Slots | 2 |
| Engineering Rig Slots | 3 |
| Powergrid Rig Slots | 3 |
Defense: 69,098
 
Shield
14,872 / 258,800 S
Armor
21,906
Structure
17,897
Electromagnetic
0.00%
50.00%
33.33%
Thermal
20.00%
35.00%
33.33%
Kinetic
40.00%
25.00%
33.33%
Explosive
50.00%
20.00%
33.33%
Capacitors: 16,684 GJ
Capacitor Recharge Time
931 S
Max Capacitor Recharge Rate
44.8 GJ/S
Max Locked Targets: 7
Signature Radius
301.5 m
Scan Resolution
120 km
Sensor Strength
20.1
Flight Velocity: 134 m/s
Warp Speed
2 AU/s
Mass
103,200,000 kg
Inertia Modifier
0.14 times
---