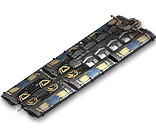 Orca
Tech Level: X

ORE
---
The Orca was developed as a joint venture between Outer Ring Excavations and Deep Core Mining Inc as a vessel to help meet the demands of New Eden's industry and provide a flexible platform from which mining operations can be more easily managed. The Orca uses much of the technology developed by ORE for the Rorqual and integrated with the latest advancements from Deep Core Mining research division has developed a vessel which offers a diverse role to all sizes of operations and needs.
Bonuses
Role Bonus
+300 Optimal Range
+3 Warp stability
+1 Command Burst module slots
+50 Effective Range
Expert Mining Foreman Bonus per Lv.
+5 Burst Strength
+3 Burst Strength
Expert Industrial Ship Command Bonus per Lv.
+20 EHP
+12km Drone control range
Attributes
Can be insured: No
Cargo Hold Capacity: 60,000 m3
Ore Hold Capacity: 405,000 m3
| | |
| --- | --- |
| Powergrid Output | 6,696 MW |
| High Slots | 4 |
| Mid Slots | 4 |
| Low Slots | 5 |
| Drone Slots | 4 |
| Engineering Rig Slots | 3 |
| Powergrid Rig Slots | 3 |
Defense: 49,713
 
Shield
13,487 / 240,900 S
Armor
9,192
Structure
17,343
Electromagnetic
0.00%
60.00%
33.33%
Thermal
20.00%
35.00%
33.33%
Kinetic
40.00%
25.00%
33.33%
Explosive
50.00%
10.00%
33.33%
Capacitors: 10,674 GJ
Capacitor Recharge Time
1,149 S
Max Capacitor Recharge Rate
23.2 GJ/S
Max Locked Targets: 9
Signature Radius
391.6 m
Scan Resolution
89 km
Sensor Strength
18.5
Flight Velocity: 84 m/s
Warp Speed
2 AU/s
Mass
150,000,000 kg
Inertia Modifier
0.26 times
---