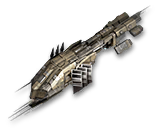 Thrasher II Interdictor
Tech Level: IX

Minmatar
---
The Minmatar have prioritized investment in small-scale fleets, which is why they were the first to develop ships to guard against squadron-based incursions, courtesy of some of their logistics teams.
Bonuses
Role Bonus
+25 Optimal Range
+1 Interdiction Sphere Launcher module licenses
Advanced Propulsion Jamming Bonus per Lv.
Advanced Destroyer Command Bonus per Lv.
Attributes
Can be insured: No
Cargo Hold Capacity: 800 m3
| | |
| --- | --- |
| Powergrid Output | 52 MW |
| High Slots | 4 |
| Mid Slots | 4 |
| Low Slots | 3 |
| Drone Slots | 0 |
| Engineering Rig Slots | 3 |
| Powergrid Rig Slots | 3 |
Defense: 4,633
 
Shield
1,461 / 11,200 S
Armor
1,300
Structure
1,152
Electromagnetic
0.00%
60.00%
33.33%
Thermal
20.00%
35.00%
33.33%
Kinetic
40.00%
25.00%
33.33%
Explosive
50.00%
10.00%
33.33%
Capacitors: 578 GJ
Capacitor Recharge Time
222 S
Max Capacitor Recharge Rate
6.5 GJ/S
Max Locked Targets: 7
Signature Radius
38.8 m
Scan Resolution
748 km
Sensor Strength
13.4
Flight Velocity: 340 m/s
Warp Speed
5 AU/s
Mass
1,600,000 kg
Inertia Modifier
1.9 times
---