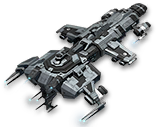 Ferox
Tech Level: VII

Caldari
---
Designed just as much to look like a killing machine as to be one, the Ferox strikes fear in the hearts of anyone unlucky enough to get caught in its crosshairs. With sizable armaments and tremendous electronic warfare capabilities, this versatile warship is at home in a great number of scenarios.
Bonuses
Role Bonus
+25 Optimal Range
+25 Accuracy Falloff
+1 Command Burst module slots
Advanced Medium Railgun Upgrade Bonus per Lv.
+8 Damage
+5 Optimal Range
Battlecruiser Command Bonus per Lv.
Attributes
Can be insured: No
Cargo Hold Capacity: 950 m3
| | |
| --- | --- |
| Powergrid Output | 988 MW |
| High Slots | 6 |
| Mid Slots | 3 |
| Low Slots | 5 |
| Drone Slots | 1 |
| Engineering Rig Slots | 3 |
| Powergrid Rig Slots | 3 |
Defense: 24,667
 
Shield
8,880 / 94,400 S
Armor
5,994
Structure
6,085
Electromagnetic
0.00%
50.00%
33.33%
Thermal
20.00%
44.75%
33.33%
Kinetic
40.00%
25.00%
33.33%
Explosive
50.00%
10.00%
33.33%
Capacitors: 3,065 GJ
Capacitor Recharge Time
528 S
Max Capacitor Recharge Rate
14.5 GJ/S
Max Locked Targets: 6
Signature Radius
257.7 m
Scan Resolution
166 km
Sensor Strength
18.1
Flight Velocity: 177 m/s
Warp Speed
2.7 AU/s
Mass
13,250,000 kg
Inertia Modifier
0.42 times
---