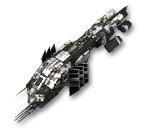 Thrasher II
Tech Level: IV

Minmatar
---
The Thukkers made a hefty fortune by selling modified Thrashers. Their version of this destroyer comes with many improvements over the original. Faster and more powerful, this vessel has proved to be one of the best in the Republic Fleet.
Bonuses
Role Bonus
Small Cannon Operation Bonus per Lv.
+7.5 Tracking Speed
+4 Damage
Destroyer Command Bonus per Lv.
Attributes
Can be insured: No
Cargo Hold Capacity: 800 m3
| | |
| --- | --- |
| Powergrid Output | 45 MW |
| High Slots | 4 |
| Mid Slots | 2 |
| Low Slots | 3 |
| Drone Slots | 0 |
| Engineering Rig Slots | 2 |
| Powergrid Rig Slots | 2 |
Defense: 2,929
 
Shield
924 / 7,900 S
Armor
822
Structure
728
Electromagnetic
0.00%
60.00%
33.33%
Thermal
20.00%
35.00%
33.33%
Kinetic
40.00%
25.00%
33.33%
Explosive
50.00%
10.00%
33.33%
Capacitors: 425 GJ
Capacitor Recharge Time
192 S
Max Capacitor Recharge Rate
5.5 GJ/S
Max Locked Targets: 6
Signature Radius
49.7 m
Scan Resolution
714 km
Sensor Strength
12.8
Flight Velocity: 311 m/s
Warp Speed
5 AU/s
Mass
1,600,000 kg
Inertia Modifier
1.9 times
---