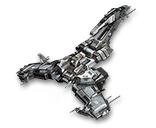 Scorpion
Tech Level: IX

Caldari
---
The first Scorpion-class battleship was launched only a couple of years ago, and those that have been built are considered to be prototypes. Little is known of its capabilities, but what has been garnered suggests that the Scorpion is crammed to the brink with sophisticated hi-tech equipment that few can match.
Bonuses
Advanced Electronic Warfare Bonus per Lv.
+15 Jammer Strength
+25 Optimal Range
+5 Scan Resolution
Battleship Command Bonus per Lv.
Attributes
Can be insured: No
Cargo Hold Capacity: 1,100 m3
| | |
| --- | --- |
| Powergrid Output | 6,879 MW |
| High Slots | 5 |
| Mid Slots | 4 |
| Low Slots | 5 |
| Drone Slots | 2 |
| Engineering Rig Slots | 3 |
| Powergrid Rig Slots | 3 |
Defense: 51,717
 
Shield
18,617 / 309,300 S
Armor
12,568
Structure
12,758
Electromagnetic
0.00%
50.00%
33.33%
Thermal
20.00%
44.75%
33.33%
Kinetic
40.00%
25.00%
33.33%
Explosive
50.00%
10.00%
33.33%
Capacitors: 7,288 GJ
Capacitor Recharge Time
874 S
Max Capacitor Recharge Rate
20.8 GJ/S
Max Locked Targets: 7
Signature Radius
322.5 m
Scan Resolution
106 km
Sensor Strength
29.9
Flight Velocity: 121 m/s
Warp Speed
3 AU/s
Mass
103,600,000 kg
Inertia Modifier
0.116 times
---