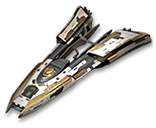 Arbitrator
Tech Level: VI

Amarr
---
The Arbitrator is unusual for Amarr ships because it is primarily a drone carrier. While it is not the best carrier around, it has superior armor that gives it greater durability than most ships in its class.
Bonuses
Advanced Electronic Warfare Bonus per Lv.
+5 Jammer Strength
+5 Optimal Range
Advanced Cruiser Command Bonus per Lv.
+15 Damage
+2km Drone control range
Attributes
Can be insured: No
Cargo Hold Capacity: 690 m3
| | |
| --- | --- |
| Powergrid Output | 514 MW |
| High Slots | 2 |
| Mid Slots | 3 |
| Low Slots | 4 |
| Drone Slots | 4 |
| Engineering Rig Slots | 2 |
| Powergrid Rig Slots | 2 |
Defense: 11,285
 
Shield
2,429 / 31,800 S
Armor
3,578
Structure
2,923
Electromagnetic
0.00%
50.00%
33.33%
Thermal
20.00%
35.00%
33.33%
Kinetic
40.00%
25.00%
33.33%
Explosive
50.00%
20.00%
33.33%
Capacitors: 2,386 GJ
Capacitor Recharge Time
486 S
Max Capacitor Recharge Rate
12.3 GJ/S
Max Locked Targets: 6
Signature Radius
95.6 m
Scan Resolution
339 km
Sensor Strength
17.5
Flight Velocity: 265 m/s
Warp Speed
4 AU/s
Mass
11,200,000 kg
Inertia Modifier
0.42 times
---