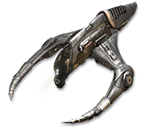 Daredevil
Tech Level: N/A

Serpentis
---
Little to no data can be found on the Daredevil's exact origin, but it's believed that Guardian Angel engineers created it to serve as a defensive complement to the Cartel's Dramiel frigate. In terms of flair and utility, it closely resembles its counterpart, but it eschews offensive capabilities in favor of greater defensive potential and stronger armor plating.
Bonuses
Advanced Small Railgun Operation Bonus per Lv.
+20 Damage
+10 Accuracy Falloff
Advanced Frigate Command Bonus per Lv.
+10 Speed Decrease
+10 Optimal Range
+10 Optimal Range
Attributes
Can be insured: No
Cargo Hold Capacity: 280 m3
| | |
| --- | --- |
| Powergrid Output | 72 MW |
| High Slots | 3 |
| Mid Slots | 3 |
| Low Slots | 3 |
| Drone Slots | 0 |
| Engineering Rig Slots | 3 |
| Powergrid Rig Slots | 3 |
Defense: 4,083
 
Shield
909 / 8,700 S
Armor
1,193
Structure
1,233
Electromagnetic
0.00%
50.00%
33.33%
Thermal
20.00%
35.00%
33.33%
Kinetic
40.00%
36.25%
33.33%
Explosive
50.00%
10.00%
33.33%
Capacitors: 657 GJ
Capacitor Recharge Time
242 S
Max Capacitor Recharge Rate
6.8 GJ/S
Max Locked Targets: 5
Signature Radius
26.7 m
Scan Resolution
760 km
Sensor Strength
14.4
Flight Velocity: 439 m/s
Warp Speed
5 AU/s
Mass
823,000 kg
Inertia Modifier
1.8 times
---