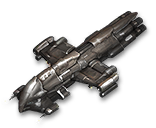 Harbinger Logistics
Tech Level: IX

Amarr
---
Following the successful modification of the battlecruiser's electronic equipment, the tech crews also overcame their logistical difficulties. In the end, all nations managed to manufacture their own lightweight logistics ships to meet their needs.
Bonuses
Role Bonus
+300 Optimal Range
+150 Effective Range
+150 Effective Range
Advanced Remote Armor Operation Bonus per Lv.
–8 Activation Time
–10 Capacitor Need
Advanced Battlecruiser Command Bonus per Lv.
+75 Optimal Range
+20 Transfer effects
Attributes
Can be insured: No
Cargo Hold Capacity: 750 m3
| | |
| --- | --- |
| Powergrid Output | 809 MW |
| High Slots | 6 |
| Mid Slots | 5 |
| Low Slots | 4 |
| Drone Slots | 1 |
| Engineering Rig Slots | 3 |
| Powergrid Rig Slots | 3 |
Defense: 22,609
 
Shield
4,866 / 59,800 S
Armor
7,168
Structure
5,856
Electromagnetic
0.00%
50.00%
33.33%
Thermal
20.00%
35.00%
33.33%
Kinetic
40.00%
25.00%
33.33%
Explosive
50.00%
20.00%
33.33%
Capacitors: 6,553 GJ
Capacitor Recharge Time
558 S
Max Capacitor Recharge Rate
29.4 GJ/S
Max Locked Targets: 7
Signature Radius
222.4 m
Scan Resolution
240 km
Sensor Strength
23.5
Flight Velocity: 207 m/s
Warp Speed
3.2 AU/s
Mass
15,500,000 kg
Inertia Modifier
0.51 times
---