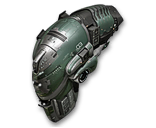 Vexor
Tech Level: V

Gallente
---
The Vexor is a strong combat ship that is also geared to operate in a variety of other roles. The Vexor is especially useful for carrying out surveillance in potentially hostile sectors, as it can stay on duty for a very long time before having to return to base. Furthermore, it is well capable of defending itself against even concentrated attacks.
Bonuses
Medium Drone Operation Bonus per Lv.
+7.5 Damage
+5 EHP
+2km Drone control range
Cruiser Command Bonus per Lv.
Attributes
Can be insured: No
Cargo Hold Capacity: 960 m3
| | |
| --- | --- |
| Powergrid Output | 473 MW |
| High Slots | 2 |
| Mid Slots | 2 |
| Low Slots | 4 |
| Drone Slots | 5 |
| Engineering Rig Slots | 2 |
| Powergrid Rig Slots | 2 |
Defense: 9,372
 
Shield
2,239 / 29,200 S
Armor
2,701
Structure
2,755
Electromagnetic
0.00%
50.00%
33.33%
Thermal
20.00%
35.00%
33.33%
Kinetic
40.00%
36.25%
33.33%
Explosive
50.00%
10.00%
33.33%
Capacitors: 2,376 GJ
Capacitor Recharge Time
468 S
Max Capacitor Recharge Rate
12.7 GJ/S
Max Locked Targets: 6
Signature Radius
116.4 m
Scan Resolution
300 km
Sensor Strength
16.8
Flight Velocity: 237 m/s
Warp Speed
3 AU/s
Mass
11,100,000 kg
Inertia Modifier
0.335 times
---