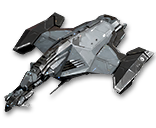 Moa
Tech Level: VI

Caldari
---
The Moa was designed as an all-out combat ship. Its heavy armament allows it to tackle almost anything that floats in space. In contrast to its nemesis, the Thorax, the Moa is most effective at long range where its railguns can rain death upon its foes.
Bonuses
Shield Operation Bonus per Lv.
Cruiser Command Bonus per Lv.
+5 Damage
+5 Accuracy Falloff
Attributes
Can be insured: No
Cargo Hold Capacity: 900 m3
| | |
| --- | --- |
| Powergrid Output | 731 MW |
| High Slots | 4 |
| Mid Slots | 2 |
| Low Slots | 5 |
| Drone Slots | 1 |
| Engineering Rig Slots | 2 |
| Powergrid Rig Slots | 2 |
Defense: 12,513
 
Shield
4,504 / 51,000 S
Armor
3,041
Structure
3,087
Electromagnetic
0.00%
50.00%
33.33%
Thermal
20.00%
44.75%
33.33%
Kinetic
40.00%
25.00%
33.33%
Explosive
50.00%
10.00%
33.33%
Capacitors: 2,432 GJ
Capacitor Recharge Time
498 S
Max Capacitor Recharge Rate
12.2 GJ/S
Max Locked Targets: 6
Signature Radius
114.6 m
Scan Resolution
229 km
Sensor Strength
15
Flight Velocity: 239 m/s
Warp Speed
3 AU/s
Mass
12,000,000 kg
Inertia Modifier
0.39 times
---