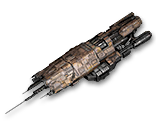 Typhoon
Tech Level: IX

Minmatar
---
Much praised by its proponents and much maligned by its detractors, the Typhoon-class battleship has always been one of the most hotly debated spacefaring vessels around. Its distinguishing aspect - and the source of most of the controversy - is its sheer versatility, variously seen as either a lack of design focus or a deliberate freedom for pilot modification.
Bonuses
Large Missile/Torpedo operation Bonus per Lv.
–5 Activation Time
+5 Explosion Velocity
Battleship Command Bonus per Lv.
Attributes
Can be insured: No
Cargo Hold Capacity: 1,250 m3
| | |
| --- | --- |
| Powergrid Output | 6,968 MW |
| High Slots | 7 |
| Mid Slots | 3 |
| Low Slots | 6 |
| Drone Slots | 2 |
| Engineering Rig Slots | 3 |
| Powergrid Rig Slots | 3 |
Defense: 52,031
 
Shield
16,405 / 274,700 S
Armor
14,604
Structure
12,934
Electromagnetic
0.00%
60.00%
33.33%
Thermal
20.00%
35.00%
33.33%
Kinetic
40.00%
25.00%
33.33%
Explosive
50.00%
10.00%
33.33%
Capacitors: 7,680 GJ
Capacitor Recharge Time
893 S
Max Capacitor Recharge Rate
21.5 GJ/S
Max Locked Targets: 7
Signature Radius
253.2 m
Scan Resolution
124 km
Sensor Strength
24.6
Flight Velocity: 146 m/s
Warp Speed
3 AU/s
Mass
100,600,000 kg
Inertia Modifier
0.11 times
---