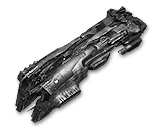 Vindicator
Tech Level: N/A

Serpentis
---
Basing their design on the Federation Navy's much-vaunted Megathron, the Guardian Angels' engineers set out to create a battleship that would instill fear in anyone fool enough to square off against the Cartel or its Serpentis protectorate. Based on the reputation this ship has engendered, they seem to have succeeded admirably.
Bonuses
Advanced Large Railgun Operation Bonus per Lv.
+10 Damage
+7.5 Tracking Speed
Advanced Battleship Command Bonus per Lv.
+10 Speed Decrease
+20 Optimal Range
+10 Optimal Range
Attributes
Can be insured: No
Cargo Hold Capacity: 1,330 m3
| | |
| --- | --- |
| Powergrid Output | 11,250 MW |
| High Slots | 8 |
| Mid Slots | 4 |
| Low Slots | 6 |
| Drone Slots | 2 |
| Engineering Rig Slots | 3 |
| Powergrid Rig Slots | 3 |
Defense: 81,681
 
Shield
18,183 / 219,500 S
Armor
23,865
Structure
24,656
Electromagnetic
0.00%
50.00%
33.33%
Thermal
20.00%
35.00%
33.33%
Kinetic
40.00%
36.25%
33.33%
Explosive
50.00%
10.00%
33.33%
Capacitors: 11,907 GJ
Capacitor Recharge Time
1,007 S
Max Capacitor Recharge Rate
29.6 GJ/S
Max Locked Targets: 7
Signature Radius
320.5 m
Scan Resolution
110 km
Sensor Strength
31.8
Flight Velocity: 128 m/s
Warp Speed
2 AU/s
Mass
105,200,000 kg
Inertia Modifier
0.083 times
---