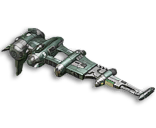 Catalyst Covert Ops
Tech Level: X

Gallente
---
The Federation has always been good at using stealth tactics, but turning the Catalyst into a stealth destroyer was all down to a beautiful misunderstanding that no one cared to clear up. With excellent potential for upgrades, the Catalyst has seen all kinds of strange modifications.
Bonuses
Role Bonus
+25 Optimal Range
+1 Max Covert Ops Cloaking Devices
Advanced Destroyer Defense Upgrade Bonus per Lv.
+5 Inertia Modifier
–4 Signature Radius
Advanced Destroyer Command Bonus per Lv.
+15 Damage
+7.5 Tracking Speed
Attributes
Can be insured: No
Cargo Hold Capacity: 900 m3
| | |
| --- | --- |
| Powergrid Output | 85 MW |
| High Slots | 4 |
| Mid Slots | 3 |
| Low Slots | 4 |
| Drone Slots | 0 |
| Engineering Rig Slots | 3 |
| Powergrid Rig Slots | 3 |
Defense: 6,153
 
Shield
1,470 / 11,400 S
Armor
1,773
Structure
1,809
Electromagnetic
0.00%
50.00%
33.33%
Thermal
20.00%
35.00%
33.33%
Kinetic
40.00%
36.25%
33.33%
Explosive
50.00%
10.00%
33.33%
Capacitors: 731 GJ
Capacitor Recharge Time
227 S
Max Capacitor Recharge Rate
8.1 GJ/S
Max Locked Targets: 7
Signature Radius
44.2 m
Scan Resolution
621 km
Sensor Strength
14.2
Flight Velocity: 298 m/s
Warp Speed
5.5 AU/s
Mass
1,150,000 kg
Inertia Modifier
2.1 times
---