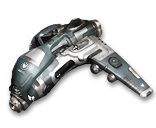 Atron II Interceptor
Tech Level: X

Gallente
---
Thanks to the Gallente Federation's progressive economic policies, Federal Freight acquired a batch of Atron frigates and modified them. As it turned out, it doesn't take years of Interceptor piloting experience to be a master of interception. Thus, the modifications were extremely successful and well-received.
Bonuses
Role Bonus
+1 Warp Disrupt Field immunity level
Advanced Electronic Warfare Bonus per Lv.
+7.5 Optimal Range
+7.5 Optimal Range
–15 Signature Radius Penalty
Advanced Frigate Command Bonus per Lv.
+7.5 Accuracy Falloff
+15 Damage
+5 Scan Resolution
Attributes
Can be insured: No
Cargo Hold Capacity: 290 m3
| | |
| --- | --- |
| Powergrid Output | 59 MW |
| High Slots | 3 |
| Mid Slots | 3 |
| Low Slots | 3 |
| Drone Slots | 0 |
| Engineering Rig Slots | 3 |
| Powergrid Rig Slots | 3 |
Defense: 2,264
 
Shield
541 / 6,900 S
Armor
652
Structure
666
Electromagnetic
0.00%
50.00%
33.33%
Thermal
20.00%
35.00%
33.33%
Kinetic
40.00%
36.25%
33.33%
Explosive
50.00%
10.00%
33.33%
Capacitors: 624 GJ
Capacitor Recharge Time
222 S
Max Capacitor Recharge Rate
7.0 GJ/S
Max Locked Targets: 5
Signature Radius
25.1 m
Scan Resolution
918 km
Sensor Strength
14.1
Flight Velocity: 473 m/s
Warp Speed
5.5 AU/s
Mass
1,060,000 kg
Inertia Modifier
1.1 times
---