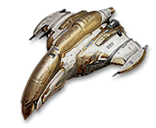 Prophecy
Tech Level: VII

Amarr
---
The Prophecy is built on an ancient Amarrian warship design dating back to the earliest days of starship combat. Originally intended as a full-fledged battleship, it was determined after mixed-fleet engagements with early prototypes that the Prophecy would be more effective as a slightly smaller, more mobile form of artillery support.
Bonuses
Role Bonus
+15km Drone control range
+1 Command Burst module slots
Advanced Medium Drone Upgrade Bonus per Lv.
+30 Damage
+5 Flight Velocity
Battlecruiser Command Bonus per Lv.
Attributes
Can be insured: No
Cargo Hold Capacity: 800 m3
| | |
| --- | --- |
| Powergrid Output | 741 MW |
| High Slots | 3 |
| Mid Slots | 3 |
| Low Slots | 5 |
| Drone Slots | 5 |
| Engineering Rig Slots | 3 |
| Powergrid Rig Slots | 3 |
Defense: 26,486
 
Shield
5,701 / 63,900 S
Armor
8,397
Structure
6,860
Electromagnetic
0.00%
50.00%
33.33%
Thermal
20.00%
35.00%
33.33%
Kinetic
40.00%
25.00%
33.33%
Explosive
50.00%
20.00%
33.33%
Capacitors: 2,689 GJ
Capacitor Recharge Time
510 S
Max Capacitor Recharge Rate
13.2 GJ/S
Max Locked Targets: 6
Signature Radius
233.6 m
Scan Resolution
186 km
Sensor Strength
16
Flight Velocity: 194 m/s
Warp Speed
2.7 AU/s
Mass
15,300,000 kg
Inertia Modifier
0.4 times
---