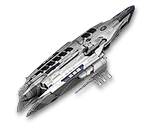 Corax Trainer
Tech Level: IV

Caldari
---
CONCORD constructed this trainer ship with permission from the Amarr Empire, the Caldari State, the Gallente Federation, and the Minmatar Republic (no specific order). We wish you a fantastic voyage. Remember to pay your taxes and follow your heart.
Bonuses
Role Bonus
Small Missile/Torpedo operation Bonus per Lv.
Destroyer Command Bonus per Lv.
+5 Optimal Range
+5 Optimal Range
Attributes
Can be insured: Yes
Cargo Hold Capacity: 900 m3
| | |
| --- | --- |
| Powergrid Output | 49 MW |
| High Slots | 3 |
| Mid Slots | 1 |
| Low Slots | 3 |
| Drone Slots | 0 |
| Engineering Rig Slots | 2 |
| Powergrid Rig Slots | 2 |
Defense: 2,739
 
Shield
986 / 8,000 S
Armor
666
Structure
676
Electromagnetic
0.00%
50.00%
33.33%
Thermal
20.00%
44.75%
33.33%
Kinetic
40.00%
25.00%
33.33%
Explosive
50.00%
10.00%
33.33%
Capacitors: 386 GJ
Capacitor Recharge Time
187 S
Max Capacitor Recharge Rate
5.2 GJ/S
Max Locked Targets: 6
Signature Radius
71.5 m
Scan Resolution
485 km
Sensor Strength
13
Flight Velocity: 223 m/s
Warp Speed
4.5 AU/s
Mass
1,750,000 kg
Inertia Modifier
2.2 times
---