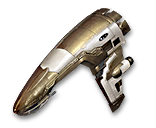 Punisher
Tech Level: III

Amarr
---
The Punisher is considered, by many, to be one of the best Amarr frigates in existence; as evidently shown by its heavy armaments. The Punisher is mainly intended for large-scale military operations, acting in coordination with larger military vessels. With its damage output, however, it is also perfectly capable of punching its way right through unwary opponents.
Bonuses
Small Laser Operation Bonus per Lv.
+8 Damage
–10 Capacitor Need
Frigate Command Bonus per Lv.
Attributes
Can be insured: Yes
Cargo Hold Capacity: 270 m3
| | |
| --- | --- |
| Powergrid Output | 50 MW |
| High Slots | 2 |
| Mid Slots | 1 |
| Low Slots | 2 |
| Drone Slots | 0 |
| Engineering Rig Slots | 0 |
| Powergrid Rig Slots | 0 |
Defense: 1,312
 
Shield
283 / 5,200 S
Armor
416
Structure
340
Electromagnetic
0.00%
50.00%
33.33%
Thermal
20.00%
35.00%
33.33%
Kinetic
40.00%
25.00%
33.33%
Explosive
50.00%
20.00%
33.33%
Capacitors: 473 GJ
Capacitor Recharge Time
177 S
Max Capacitor Recharge Rate
6.7 GJ/S
Max Locked Targets: 4
Signature Radius
35.6 m
Scan Resolution
756 km
Sensor Strength
11.1
Flight Velocity: 380 m/s
Warp Speed
5 AU/s
Mass
1,190,000 kg
Inertia Modifier
1.8 times
---