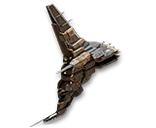 Tornado
Tech Level: VIII

Minmatar
---
In YC113, Republic Security Services discovered that the Amarr Empire was building a new battlecruiser capable of supporting battleship-class weapons. Determined not to lose their technological edge to their adversaries, the Republic Fleet commissioned Boundless Creation to construct a gunboat to match. What they designed was the Tornado. Developed in record time and total secrecy, the Tornado is a testament to Minmatar engineering. Modeled loosely on flying-wing designs of ancient planetary bombers, the Tornado supports multiple large cannons, dealing massive damage while maintaining a small signature radius.
Bonuses
Role Bonus
–95 Powergrid Requirement
Advanced Battlecruiser Engineering Bonus per Lv.
–5 Activation Time
+5 Accuracy Falloff
Advanced Battlecruiser Command Bonus per Lv.
+5 Flight Velocity
–5 Scan Resolution
Attributes
Can be insured: No
Cargo Hold Capacity: 1,070 m3
| | |
| --- | --- |
| Powergrid Output | 1,146 MW |
| High Slots | 6 |
| Mid Slots | 3 |
| Low Slots | 5 |
| Drone Slots | 1 |
| Engineering Rig Slots | 3 |
| Powergrid Rig Slots | 3 |
Defense: 20,091
 
Shield
6,335 / 72,400 S
Armor
5,639
Structure
4,994
Electromagnetic
0.00%
60.00%
33.33%
Thermal
20.00%
35.00%
33.33%
Kinetic
40.00%
25.00%
33.33%
Explosive
50.00%
10.00%
33.33%
Capacitors: 2,504 GJ
Capacitor Recharge Time
540 S
Max Capacitor Recharge Rate
11.6 GJ/S
Max Locked Targets: 7
Signature Radius
202.5 m
Scan Resolution
257 km
Sensor Strength
19.6
Flight Velocity: 203 m/s
Warp Speed
2.7 AU/s
Mass
15,228,000 kg
Inertia Modifier
0.35 times
---