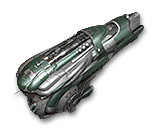 Dominix
Tech Level: IX

Gallente
---
The Dominix is one of the old warhorses dating back to the Gallente-Caldari War. While no longer regarded as the king of the hill, it is by no means obsolete. Its formidable hulk and powerful drone arsenal means that anyone not in the largest and latest battleships will regret ever locking horns with it.
Bonuses
Large Drone Operation Bonus per Lv.
+40 Damage
+5 Optimal Range
+5 Tracking Speed
Battleship Command Bonus per Lv.
+10km Drone control range
Attributes
Can be insured: No
Cargo Hold Capacity: 1,200 m3
| | |
| --- | --- |
| Powergrid Output | 6,912 MW |
| High Slots | 4 |
| Mid Slots | 3 |
| Low Slots | 6 |
| Drone Slots | 5 |
| Engineering Rig Slots | 3 |
| Powergrid Rig Slots | 3 |
Defense: 53,520
 
Shield
12,787 / 217,100 S
Armor
15,424
Structure
15,731
Electromagnetic
0.00%
50.00%
33.33%
Thermal
20.00%
35.00%
33.33%
Kinetic
40.00%
36.25%
33.33%
Explosive
50.00%
10.00%
33.33%
Capacitors: 7,430 GJ
Capacitor Recharge Time
864 S
Max Capacitor Recharge Rate
21.5 GJ/S
Max Locked Targets: 7
Signature Radius
310.4 m
Scan Resolution
116 km
Sensor Strength
28.1
Flight Velocity: 131 m/s
Warp Speed
3 AU/s
Mass
100,250,000 kg
Inertia Modifier
0.1254 times
---