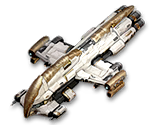 Harbinger
Tech Level: VIII

Amarr
---
Right from its very appearance on a battlefield, the Harbinger proclaims its status as a massive weapon, a laser burning through the heart of the ungodly. Everything about it exhibits its focused intent, from the lights on its nose and wings that root out infidels, to the large number of lasers that serve to destroy them. Should any heathens be left alive after the Harbinger's initial assault, its drones will take care of them.
Bonuses
Role Bonus
+25 Optimal Range
+25 Accuracy Falloff
+1 Command Burst module slots
Advanced Medium Laser Upgrade Bonus per Lv.
+5 Damage
–10 Capacitor Need
Battlecruiser Command Bonus per Lv.
Attributes
Can be insured: No
Cargo Hold Capacity: 750 m3
| | |
| --- | --- |
| Powergrid Output | 1,209 MW |
| High Slots | 7 |
| Mid Slots | 3 |
| Low Slots | 5 |
| Drone Slots | 1 |
| Engineering Rig Slots | 3 |
| Powergrid Rig Slots | 3 |
Defense: 22,571
 
Shield
4,858 / 58,000 S
Armor
7,156
Structure
5,846
Electromagnetic
0.00%
50.00%
33.33%
Thermal
20.00%
35.00%
33.33%
Kinetic
40.00%
25.00%
33.33%
Explosive
50.00%
20.00%
33.33%
Capacitors: 4,727 GJ
Capacitor Recharge Time
546 S
Max Capacitor Recharge Rate
21.6 GJ/S
Max Locked Targets: 6
Signature Radius
222.7 m
Scan Resolution
226 km
Sensor Strength
19.4
Flight Velocity: 185 m/s
Warp Speed
2.7 AU/s
Mass
15,500,000 kg
Inertia Modifier
0.42 times
---