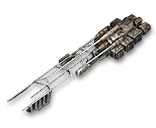 Hound II
Tech Level: IX

Minmatar
---
The Minmatar often need to engage in numbers against their superior enemies in fleet battles. Therefore, many Capsuleer students learn how to use stealth bombers in the institute. Naturally, a certain prodigy among them introduced a modified Hound, immediately revolutionizing the strategic thinking of many young Minmatar soldiers. The new ship design is now a permanent fixture on the orders of battle of many military organizations.
Bonuses
Role Bonus
–99 Powergrid Requirement
–50 Reactivation Delay
+1 Max Covert Ops Cloaking Devices
–100 Lock Delay
Large Missile/Torpedo upgrade Bonus per Lv.
+10 Explosive Damage
+5 EM Damage
+10 Flight Velocity
Expert Frigate Command Bonus per Lv.
Attributes
Can be insured: No
Cargo Hold Capacity: 510 m3
| | |
| --- | --- |
| Powergrid Output | 61 MW |
| High Slots | 3 |
| Mid Slots | 3 |
| Low Slots | 3 |
| Drone Slots | 0 |
| Engineering Rig Slots | 3 |
| Powergrid Rig Slots | 3 |
Defense: 2,601
 
Shield
820 / 8,100 S
Armor
730
Structure
647
Electromagnetic
0.00%
60.00%
33.33%
Thermal
20.00%
35.00%
33.33%
Kinetic
40.00%
25.00%
33.33%
Explosive
50.00%
10.00%
33.33%
Capacitors: 576 GJ
Capacitor Recharge Time
217 S
Max Capacitor Recharge Rate
6.6 GJ/S
Max Locked Targets: 5
Signature Radius
22 m
Scan Resolution
390 km
Sensor Strength
15.3
Flight Velocity: 386 m/s
Warp Speed
5 AU/s
Mass
1,455,000 kg
Inertia Modifier
2.3 times
---