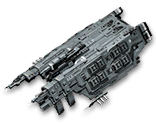 Drake
Tech Level: VIII

Caldari
---
Of the meticulous craftsmanship the Caldari are renowned for, the Drake was born. It was found beneath such a ship to rely on anything other than the time-honored combat tradition of missile fire, while the inclusion of sufficient CPU capabilities for decent electronic warfare goes without saying.
Bonuses
Role Bonus
+25 Flight Velocity
+1 Command Burst module slots
Advanced Medium Missile/Torpedo upgrade Bonus per Lv.
+10 Kinetic Damage
+10 Thermal Damage
Battlecruiser Command Bonus per Lv.
Attributes
Can be insured: No
Cargo Hold Capacity: 900 m3
| | |
| --- | --- |
| Powergrid Output | 701 MW |
| High Slots | 7 |
| Mid Slots | 3 |
| Low Slots | 5 |
| Drone Slots | 1 |
| Engineering Rig Slots | 3 |
| Powergrid Rig Slots | 3 |
Defense: 21,019
 
Shield
7,567 / 84,700 S
Armor
5,108
Structure
5,185
Electromagnetic
0.00%
50.00%
33.33%
Thermal
20.00%
44.75%
33.33%
Kinetic
40.00%
25.00%
33.33%
Explosive
50.00%
10.00%
33.33%
Capacitors: 2,363 GJ
Capacitor Recharge Time
546 S
Max Capacitor Recharge Rate
10.8 GJ/S
Max Locked Targets: 6
Signature Radius
245.7 m
Scan Resolution
202 km
Sensor Strength
22
Flight Velocity: 168 m/s
Warp Speed
2.7 AU/s
Mass
13,500,000 kg
Inertia Modifier
0.48 times
---