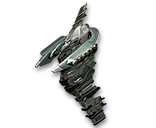 Myrmidon
Tech Level: VII

Gallente
---
Worried that their hot-shot pilots would burn brightly in their eagerness to engage the enemy, the Federation Navy created a ship that encourages caution over foolhardiness. A hardier version of its counterpart, the Myrmidon is a ship designed to persist in battle. Its numerous slots allow it to slowly bulldoze its way through the opposition, while its massive drone space ensures that no enemy is left unscathed.
Bonuses
Role Bonus
+15km Drone control range
+1 Command Burst module slots
Advanced Medium Drone Upgrade Bonus per Lv.
Battlecruiser Command Bonus per Lv.
Attributes
Can be insured: No
Cargo Hold Capacity: 800 m3
| | |
| --- | --- |
| Powergrid Output | 651 MW |
| High Slots | 3 |
| Mid Slots | 3 |
| Low Slots | 5 |
| Drone Slots | 5 |
| Engineering Rig Slots | 3 |
| Powergrid Rig Slots | 3 |
Defense: 25,527
 
Shield
6,099 / 67,700 S
Armor
7,357
Structure
7,503
Electromagnetic
0.00%
50.00%
33.33%
Thermal
20.00%
35.00%
33.33%
Kinetic
40.00%
36.25%
33.33%
Explosive
50.00%
10.00%
33.33%
Capacitors: 2,689 GJ
Capacitor Recharge Time
510 S
Max Capacitor Recharge Rate
13.2 GJ/S
Max Locked Targets: 6
Signature Radius
248 m
Scan Resolution
183 km
Sensor Strength
17.1
Flight Velocity: 191 m/s
Warp Speed
2.7 AU/s
Mass
12,700,000 kg
Inertia Modifier
0.49 times
---