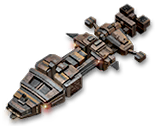 Mammoth
Tech Level: VI

Minmatar
---
The Mammoth is the largest industrial ship of the Minmatar Republic. It was designed with aid from the Gallente Federation, making it both large and powerful, yet also nimble and technologically advanced. An excellent choice.
Bonuses
Role Bonus
Advanced Industrial Ship Defense Upgrade Bonus per Lv.
Advanced Industrial Ship Command Bonus per Lv.
Attributes
Can be insured: No
Cargo Hold Capacity: 6,800 m3
Ore Hold Capacity: 17,000 m3
| | |
| --- | --- |
| Powergrid Output | 213 MW |
| High Slots | 2 |
| Mid Slots | 2 |
| Low Slots | 3 |
| Drone Slots | 0 |
| Engineering Rig Slots | 2 |
| Powergrid Rig Slots | 2 |
Defense: 6,545
 
Shield
2,064 / 28,300 S
Armor
1,837
Structure
1,627
Electromagnetic
0.00%
60.00%
33.33%
Thermal
20.00%
35.00%
33.33%
Kinetic
40.00%
25.00%
33.33%
Explosive
50.00%
10.00%
33.33%
Capacitors: 1,289 GJ
Capacitor Recharge Time
474 S
Max Capacitor Recharge Rate
6.8 GJ/S
Max Locked Targets: 6
Signature Radius
103.5 m
Scan Resolution
146 km
Sensor Strength
8.9
Flight Velocity: 140 m/s
Warp Speed
3 AU/s
Mass
11,500,000 kg
Inertia Modifier
0.68 times
---