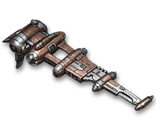 Catalyst II
Tech Level: IV

Gallente
---
After being upgraded by Roden Shipyards, this already excellent anti-frigate platform is now even better equipped, giving it more breathing room when dealing with other destroyers of a similar class. Who would say no to a vessel with such impressive improvements?
Bonuses
Role Bonus
Small Railgun Operation Bonus per Lv.
+2.5 Damage
+7.5 Tracking Speed
+7.5 Accuracy Falloff
Destroyer Command Bonus per Lv.
Attributes
Can be insured: No
Cargo Hold Capacity: 900 m3
| | |
| --- | --- |
| Powergrid Output | 64 MW |
| High Slots | 4 |
| Mid Slots | 2 |
| Low Slots | 3 |
| Drone Slots | 0 |
| Engineering Rig Slots | 2 |
| Powergrid Rig Slots | 2 |
Defense: 3,013
 
Shield
720 / 7,100 S
Armor
868
Structure
886
Electromagnetic
0.00%
50.00%
33.33%
Thermal
20.00%
35.00%
33.33%
Kinetic
40.00%
36.25%
33.33%
Explosive
50.00%
10.00%
33.33%
Capacitors: 492 GJ
Capacitor Recharge Time
192 S
Max Capacitor Recharge Rate
6.4 GJ/S
Max Locked Targets: 6
Signature Radius
61 m
Scan Resolution
667 km
Sensor Strength
14.6
Flight Velocity: 278 m/s
Warp Speed
5 AU/s
Mass
1,550,000 kg
Inertia Modifier
2.1 times
---