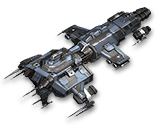 Ferox II Command
Tech Level: X

Caldari
---
Command ships already existed before the modification of the battlecruiser's electronic equipment, but the new lightweight model of command ship is currently enjoying great popularity among pilots.
Bonuses
Role Bonus
+25 Optimal Range
+25 Accuracy Falloff
+1 Command Burst module slots
Advanced Information Command Bonus per Lv.
+5 Burst Strength
+3 Burst Strength
+7.5 Effective Range
Advanced Battlecruiser Command Bonus per Lv.
+5 Scan Resolution
+12 Damage
+7.5 Optimal Range
Attributes
Can be insured: No
Cargo Hold Capacity: 950 m3
| | |
| --- | --- |
| Powergrid Output | 1,124 MW |
| High Slots | 6 |
| Mid Slots | 4 |
| Low Slots | 5 |
| Drone Slots | 1 |
| Engineering Rig Slots | 3 |
| Powergrid Rig Slots | 3 |
Defense: 22,007
 
Shield
7,922 / 93,800 S
Armor
5,348
Structure
5,429
Electromagnetic
0.00%
50.00%
33.33%
Thermal
20.00%
44.75%
33.33%
Kinetic
40.00%
25.00%
33.33%
Explosive
50.00%
10.00%
33.33%
Capacitors: 3,694 GJ
Capacitor Recharge Time
570 S
Max Capacitor Recharge Rate
16.2 GJ/S
Max Locked Targets: 7
Signature Radius
243.9 m
Scan Resolution
206 km
Sensor Strength
22.4
Flight Velocity: 226 m/s
Warp Speed
3.7 AU/s
Mass
14,000,000 kg
Inertia Modifier
0.48 times
---