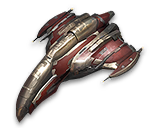 Prophecy II Guardian
Tech Level: X

Amarr
---
It's a well known fact that battlecruisers which rely on the strategic use of force fields provide excellent defense. Even the most ordinary such models perform admirably. As a result, many wealthy organizations have adapted the designs to suit their own needs. Following some clandestine transactions, these designs were leaked onto the open market, and now these modified ships are a common sight throughout New Eden.
Bonuses
Role Bonus
+25km Drone control range
+1 Command Burst module slots
+1 Max Armor Link Modules
Advanced Battlecruiser Defense Upgrade Bonus per Lv.
+20 Damage
+5 Flight Velocity
Advanced Battlecruiser Command Bonus per Lv.
Attributes
Can be insured: No
Cargo Hold Capacity: 800 m3
| | |
| --- | --- |
| Powergrid Output | 715 MW |
| High Slots | 2 |
| Mid Slots | 2 |
| Low Slots | 7 |
| Drone Slots | 4 |
| Engineering Rig Slots | 3 |
| Powergrid Rig Slots | 3 |
Defense: 31,094
 
Shield
6,692 / 80,400 S
Armor
9,858
Structure
8,054
Electromagnetic
0.00%
50.00%
33.33%
Thermal
20.00%
35.00%
33.33%
Kinetic
40.00%
25.00%
33.33%
Explosive
50.00%
20.00%
33.33%
Capacitors: 2,935 GJ
Capacitor Recharge Time
546 S
Max Capacitor Recharge Rate
13.4 GJ/S
Max Locked Targets: 7
Signature Radius
201 m
Scan Resolution
191 km
Sensor Strength
16.4
Flight Velocity: 204 m/s
Warp Speed
2.7 AU/s
Mass
15,300,000 kg
Inertia Modifier
0.47 times
---