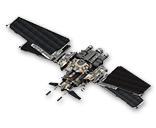 Slasher Interceptor
Tech Level: VIII

Minmatar
---
Many Factions took a shot at the Interceptor Project, giving rise to a lot of customized ships. The Slasher modified by Boundless Creation is one of these.
Bonuses
Role Bonus
+1 Warp Disrupt Field immunity level
+1 Jammer Strength
Advanced Electronic Warfare Bonus per Lv.
+5 Optimal Range
–15 Signature Radius Penalty
Advanced Frigate Command Bonus per Lv.
+7.5 Tracking Speed
+10 Damage
Attributes
Can be insured: No
Cargo Hold Capacity: 240 m3
| | |
| --- | --- |
| Powergrid Output | 39 MW |
| High Slots | 3 |
| Mid Slots | 3 |
| Low Slots | 3 |
| Drone Slots | 0 |
| Engineering Rig Slots | 3 |
| Powergrid Rig Slots | 3 |
Defense: 1,997
 
Shield
630 / 7,100 S
Armor
561
Structure
496
Electromagnetic
0.00%
60.00%
33.33%
Thermal
20.00%
35.00%
33.33%
Kinetic
40.00%
25.00%
33.33%
Explosive
50.00%
10.00%
33.33%
Capacitors: 524 GJ
Capacitor Recharge Time
212 S
Max Capacitor Recharge Rate
6.2 GJ/S
Max Locked Targets: 4
Signature Radius
22.7 m
Scan Resolution
965 km
Sensor Strength
12.1
Flight Velocity: 512 m/s
Warp Speed
5.5 AU/s
Mass
1,100,000 kg
Inertia Modifier
1.1 times
---