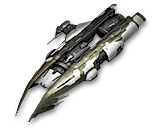 Coercer II Interdictor
Tech Level: IX

Amarr
---
Due to the requirements of squad-based combat, one of the families under the Amarr Empire worked on modifications for the Coercer, eventually resulting in this highly integrated light ship design.
Bonuses
Role Bonus
+25 Optimal Range
+1 Warp Disruption Bomb module licenses
Advanced Propulsion Jamming Bonus per Lv.
Advanced Destroyer Command Bonus per Lv.
+10 Damage
–10 Capacitor Need
Attributes
Can be insured: No
Cargo Hold Capacity: 750 m3
| | |
| --- | --- |
| Powergrid Output | 92 MW |
| High Slots | 4 |
| Mid Slots | 4 |
| Low Slots | 3 |
| Drone Slots | 0 |
| Engineering Rig Slots | 3 |
| Powergrid Rig Slots | 3 |
Defense: 4,945
 
Shield
1,064 / 9,300 S
Armor
1,568
Structure
1,281
Electromagnetic
0.00%
50.00%
33.33%
Thermal
20.00%
35.00%
33.33%
Kinetic
40.00%
25.00%
33.33%
Explosive
50.00%
20.00%
33.33%
Capacitors: 948 GJ
Capacitor Recharge Time
222 S
Max Capacitor Recharge Rate
10.7 GJ/S
Max Locked Targets: 7
Signature Radius
44.8 m
Scan Resolution
711 km
Sensor Strength
14.4
Flight Velocity: 309 m/s
Warp Speed
5 AU/s
Mass
1,650,000 kg
Inertia Modifier
2 times
---