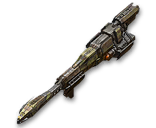 Stabber Fleet Issue
Tech Level: VI

Minmatar
---
Responding to voices stating that the Stabber needed an upgrade to be viable as a military-standard fleet vessel, the Republic Fleet commissioned the creation of the Fleet Issue Stabber; a slower, hardier version of the original that packs quite a bit more firepower. Being as new as it is on the battlefield, the Fleet Issue Stabber hasn't seen many large engagements yet, but its engineers as well as fleet command are very optimistic about its performance.
Bonuses
Advanced Medium Cannon Operation Bonus per Lv.
+7.5 Accuracy Falloff
–3 Activation Time
Advanced Cruiser Command Bonus per Lv.
+5 Flight Velocity
+5 Scan Resolution
+5 Sensor Strength
Attributes
Can be insured: No
Cargo Hold Capacity: 840 m3
| | |
| --- | --- |
| Powergrid Output | 702 MW |
| High Slots | 5 |
| Mid Slots | 3 |
| Low Slots | 4 |
| Drone Slots | 1 |
| Engineering Rig Slots | 2 |
| Powergrid Rig Slots | 2 |
Defense: 11,580
 
Shield
3,651 / 43,200 S
Armor
3,250
Structure
2,879
Electromagnetic
0.00%
60.00%
33.33%
Thermal
20.00%
35.00%
33.33%
Kinetic
40.00%
25.00%
33.33%
Explosive
50.00%
10.00%
33.33%
Capacitors: 2,056 GJ
Capacitor Recharge Time
504 S
Max Capacitor Recharge Rate
10.2 GJ/S
Max Locked Targets: 7
Signature Radius
86.4 m
Scan Resolution
324 km
Sensor Strength
15.6
Flight Velocity: 283 m/s
Warp Speed
3 AU/s
Mass
10,810,000 kg
Inertia Modifier
0.29 times
---