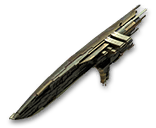 Can-Yue
Tech Level: N/A

Yan-Jung
---
A mysterious faction has arrived in New Eden. They hold the belief that more is not always better. They may even be more ancient than the Jovians. This mysterious ship brought their ancient dream here.
Bonuses
Role Bonus
+25 Optimal Range
+80 Damage
+1 Warp stability
+1 Command Burst module slots
Advanced Medium Decomposer Upgrade Bonus per Lv.
+10 Damage
+5 Optimal Range
Advanced Battlecruiser Command Bonus per Lv.
Attributes
Can be insured: No
Cargo Hold Capacity: 850 m3
| | |
| --- | --- |
| Powergrid Output | 1,074 MW |
| High Slots | 4 |
| Mid Slots | 4 |
| Low Slots | 5 |
| Drone Slots | 1 |
| Engineering Rig Slots | 3 |
| Powergrid Rig Slots | 3 |
Defense: 30,899
 
Shield
11,056 / 91,200 S
Armor
4,252
Structure
10,080
Electromagnetic
0.00%
50.00%
33.33%
Thermal
20.00%
35.00%
33.33%
Kinetic
40.00%
25.00%
33.33%
Explosive
50.00%
10.00%
33.33%
Capacitors: 5,272 GJ
Capacitor Recharge Time
606 S
Max Capacitor Recharge Rate
21.7 GJ/S
Max Locked Targets: 8
Signature Radius
176.4 m
Scan Resolution
362 km
Sensor Strength
21.3
Flight Velocity: 169 m/s
Warp Speed
2.7 AU/s
Mass
12,800,000 kg
Inertia Modifier
0.5 times
---