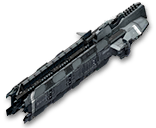 Naga
Tech Level: VIII

Caldari
---
The Naga was designed in YC109, by the Corporate Police Force as an anti-Guristas ship that sacrificed the usual robust Caldari Navy standards in favor of supporting battleship-class weaponry. It was rejected by Hyasyoda management for being overspecialized.
The Naga design remained in the Hyasyoda archives, forgotten (save for a cameo in the Gallente holo-series CPF Blue). In YC113, the Caldari Navy entertained contracts for a new tier of gunboat battlecruiser. Hyasyoda quickly submitted and won with the Naga, underbidding both Kaalakiota and Ishukone.
The Naga is effective in any campaign where fast, mobile firepower is required.
Bonuses
Role Bonus
–95 Powergrid Requirement
–50 Capacitor Need
Advanced Battlecruiser Engineering Bonus per Lv.
+5 Damage
+5 Optimal Range
Advanced Battlecruiser Command Bonus per Lv.
+5 Flight Velocity
–4 Signature Radius
Attributes
Can be insured: No
Cargo Hold Capacity: 1,150 m3
| | |
| --- | --- |
| Powergrid Output | 1,024 MW |
| High Slots | 6 |
| Mid Slots | 3 |
| Low Slots | 5 |
| Drone Slots | 1 |
| Engineering Rig Slots | 3 |
| Powergrid Rig Slots | 3 |
Defense: 19,969
 
Shield
7,189 / 80,900 S
Armor
4,853
Structure
4,926
Electromagnetic
0.00%
50.00%
33.33%
Thermal
20.00%
44.75%
33.33%
Kinetic
40.00%
25.00%
33.33%
Explosive
50.00%
10.00%
33.33%
Capacitors: 3,171 GJ
Capacitor Recharge Time
540 S
Max Capacitor Recharge Rate
14.7 GJ/S
Max Locked Targets: 7
Signature Radius
258 m
Scan Resolution
218 km
Sensor Strength
23.8
Flight Velocity: 168 m/s
Warp Speed
2.7 AU/s
Mass
15,000,000 kg
Inertia Modifier
0.39 times
---