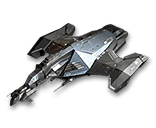 Moa Interdictor
Tech Level: X

Caldari
---
The Caldari were the first to modify the Moa. Although some attack power was sacrificed, the ability to stop large numbers of ships from warping more than makes up for it.
Bonuses
Role Bonus
+1 Max Warp Disrupt Fields
Advanced Cruiser Defense Upgrade Bonus per Lv.
+4 Shield Resistance
–5 Inertia Modifier
Advanced Cruiser Command Bonus per Lv.
+5 Damage
+7.5 Accuracy Falloff
Attributes
Can be insured: No
Cargo Hold Capacity: 900 m3
| | |
| --- | --- |
| Powergrid Output | 917 MW |
| High Slots | 5 |
| Mid Slots | 3 |
| Low Slots | 5 |
| Drone Slots | 1 |
| Engineering Rig Slots | 3 |
| Powergrid Rig Slots | 3 |
Defense: 10,939
 
Shield
3,938 / 51,500 S
Armor
2,658
Structure
2,699
Electromagnetic
0.00%
50.00%
33.33%
Thermal
20.00%
44.75%
33.33%
Kinetic
40.00%
25.00%
33.33%
Explosive
50.00%
10.00%
33.33%
Capacitors: 3,057 GJ
Capacitor Recharge Time
558 S
Max Capacitor Recharge Rate
13.7 GJ/S
Max Locked Targets: 7
Signature Radius
88.6 m
Scan Resolution
357 km
Sensor Strength
22.4
Flight Velocity: 268 m/s
Warp Speed
3.5 AU/s
Mass
11,720,000 kg
Inertia Modifier
0.39 times
---