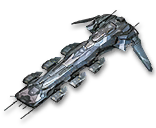 Cormorant II Interdictor
Tech Level: IX

Caldari
---
Small fleet incursions are growing in number. In response, Hyasyoda modified the Cormorant, increasing its capability to deal with such attacks. The improved model quickly became popular across the Caldari State.
Bonuses
Role Bonus
+25 Optimal Range
+1 Interdiction Sphere Launcher module licenses
Advanced Propulsion Jamming Bonus per Lv.
Advanced Destroyer Command Bonus per Lv.
+10 Damage
+7.5 Optimal Range
Attributes
Can be insured: No
Cargo Hold Capacity: 850 m3
| | |
| --- | --- |
| Powergrid Output | 79 MW |
| High Slots | 4 |
| Mid Slots | 4 |
| Low Slots | 3 |
| Drone Slots | 0 |
| Engineering Rig Slots | 3 |
| Powergrid Rig Slots | 3 |
Defense: 4,605
 
Shield
1,658 / 12,100 S
Armor
1,119
Structure
1,136
Electromagnetic
0.00%
50.00%
33.33%
Thermal
20.00%
44.75%
33.33%
Kinetic
40.00%
25.00%
33.33%
Explosive
50.00%
10.00%
33.33%
Capacitors: 691 GJ
Capacitor Recharge Time
222 S
Max Capacitor Recharge Rate
7.8 GJ/S
Max Locked Targets: 7
Signature Radius
49.4 m
Scan Resolution
635 km
Sensor Strength
16.3
Flight Velocity: 281 m/s
Warp Speed
5 AU/s
Mass
1,700,000 kg
Inertia Modifier
2 times
---