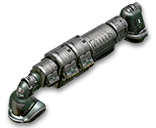 Nereus
Tech Level: VIII

Gallente
---
Originally designed as an upgrade of the Iteron, this new iteration of an old stalwart is fast and reliable. In New Eden, the Nereus is equally popular among civilians and the military due to its low price and capacity for being outfitted in myriad different ways. Despite its speed and resilience, it may require a bodyguard squad in particularly unfriendly territories.
Bonuses
Advanced Engine Operation Bonus per Lv.
Advanced Industrial Ship Command Bonus per Lv.
Attributes
Can be insured: No
Cargo Hold Capacity: 5,400 m3
| | |
| --- | --- |
| Powergrid Output | 362 MW |
| High Slots | 2 |
| Mid Slots | 2 |
| Low Slots | 3 |
| Drone Slots | 0 |
| Engineering Rig Slots | 3 |
| Powergrid Rig Slots | 3 |
Defense: 6,042
 
Shield
1,444 / 23,600 S
Armor
1,741
Structure
1,776
Electromagnetic
0.00%
50.00%
33.33%
Thermal
20.00%
35.00%
33.33%
Kinetic
40.00%
36.25%
33.33%
Explosive
50.00%
10.00%
33.33%
Capacitors: 1,523 GJ
Capacitor Recharge Time
498 S
Max Capacitor Recharge Rate
7.6 GJ/S
Max Locked Targets: 6
Signature Radius
94.5 m
Scan Resolution
154 km
Sensor Strength
10.4
Flight Velocity: 150 m/s
Warp Speed
3.5 AU/s
Mass
11,250,000 kg
Inertia Modifier
0.98 times
---