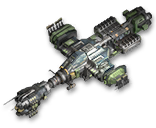 Porpoise
Tech Level: IX

ORE
---
When new lower-mass wormhole connections began appearing across Anoikis in late YC116, ORE tasked the engineers at its advanced Outer Ring Development labs with creating a mining foreman vessel capable of passing through these gateways and exploiting the unspoiled riches available within. Creating such a compact ship while preserving much of the utility of the larger Orca and Rorqual designs proved a significant challenge, but the end result was a ship that had great potential for Capsuleer mining operations in all areas of space.
The Porpoise is a smaller, more mobile and more affordable mining foreman platform that is perfect for supporting mining operations in dangerous space. It is capable of providing support to its allies through mining foreman bursts, remote shield boosters and survey scanners.
Bonuses
Role Bonus
+200 Optimal Range
+1 Command Burst module slots
+25 Effective Range
Mining Foreman Bonus per Lv.
+3 Burst Strength
+2 Burst Strength
Advanced Industrial Ship Command Bonus per Lv.
+20 EHP
+6km Drone control range
Attributes
Can be insured: No
Cargo Hold Capacity: 1,000 m3
Ore Hold Capacity: 42,000 m3
| | |
| --- | --- |
| Powergrid Output | 539 MW |
| High Slots | 3 |
| Mid Slots | 3 |
| Low Slots | 4 |
| Drone Slots | 3 |
| Engineering Rig Slots | 3 |
| Powergrid Rig Slots | 3 |
Defense: 22,593
 
Shield
6,130 / 75,600 S
Armor
4,177
Structure
7,882
Electromagnetic
0.00%
60.00%
33.33%
Thermal
20.00%
35.00%
33.33%
Kinetic
40.00%
25.00%
33.33%
Explosive
50.00%
10.00%
33.33%
Capacitors: 2,877 GJ
Capacitor Recharge Time
696 S
Max Capacitor Recharge Rate
10.3 GJ/S
Max Locked Targets: 9
Signature Radius
128.6 m
Scan Resolution
250 km
Sensor Strength
10.6
Flight Velocity: 376 m/s
Warp Speed
4 AU/s
Mass
4,500,000 kg
Inertia Modifier
0.8 times
---