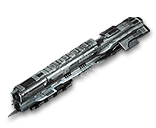 Rokh
Tech Level: IX

Caldari
---
Having long suffered the lack of an adequate railgun platform, the Caldari State's capsule pilots found themselves rejoicing as the Rokh's design specs were released. A fleet vessel if ever there was one, this far-reaching and durable beast is expected to see a great deal of service on battlefields near and far.
Bonuses
Large Railgun Operation Bonus per Lv.
Battleship Command Bonus per Lv.
Attributes
Can be insured: No
Cargo Hold Capacity: 1,250 m3
| | |
| --- | --- |
| Powergrid Output | 10,623 MW |
| High Slots | 8 |
| Mid Slots | 3 |
| Low Slots | 6 |
| Drone Slots | 2 |
| Engineering Rig Slots | 3 |
| Powergrid Rig Slots | 3 |
Defense: 46,792
 
Shield
16,844 / 281,700 S
Armor
11,371
Structure
11,543
Electromagnetic
0.00%
50.00%
33.33%
Thermal
20.00%
44.75%
33.33%
Kinetic
40.00%
25.00%
33.33%
Explosive
50.00%
10.00%
33.33%
Capacitors: 10,616 GJ
Capacitor Recharge Time
902 S
Max Capacitor Recharge Rate
29.4 GJ/S
Max Locked Targets: 8
Signature Radius
368.1 m
Scan Resolution
104 km
Sensor Strength
29.3
Flight Velocity: 112 m/s
Warp Speed
2 AU/s
Mass
105,300,000 kg
Inertia Modifier
0.136 times
---