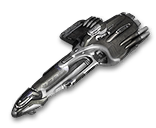 Vigilant
Tech Level: N/A

Serpentis
---
The Vigilant was the first Gallente design which the Guardian Angels stole and made their own, but it wouldn't be the last. Building on the Thorax's natural strengths, it is a deadly vessel both by itself and as part of a fleet. A group of these sluggers is a sight to fear.
Bonuses
Advanced Medium Railgun Operation Bonus per Lv.
+10 Damage
+10 Accuracy Falloff
Advanced Cruiser Command Bonus per Lv.
+10 Speed Decrease
+10 Optimal Range
+10 Optimal Range
Attributes
Can be insured: No
Cargo Hold Capacity: 900 m3
| | |
| --- | --- |
| Powergrid Output | 974 MW |
| High Slots | 5 |
| Mid Slots | 3 |
| Low Slots | 5 |
| Drone Slots | 1 |
| Engineering Rig Slots | 3 |
| Powergrid Rig Slots | 3 |
Defense: 20,420
 
Shield
4,546 / 45,400 S
Armor
5,966
Structure
6,164
Electromagnetic
0.00%
50.00%
33.33%
Thermal
20.00%
35.00%
33.33%
Kinetic
40.00%
36.25%
33.33%
Explosive
50.00%
10.00%
33.33%
Capacitors: 3,250 GJ
Capacitor Recharge Time
606 S
Max Capacitor Recharge Rate
13.4 GJ/S
Max Locked Targets: 7
Signature Radius
90.8 m
Scan Resolution
325 km
Sensor Strength
21.7
Flight Velocity: 268 m/s
Warp Speed
3 AU/s
Mass
9,830,000 kg
Inertia Modifier
0.38 times
---