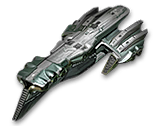 Talos
Tech Level: VIII

Gallente
---
The Talos began in YC110 as an R&D concept by ORE. Conceived as a patrol craft for mining operations in lawless space, the Talos would have been abandoned completely were it not adopted by the Black Eagles, a black-ops branch of the Gallente government. The Black Eagles stripped the Talos of non-essential systems and bolted on battleship-class weapons, creating a quick-strike craft ideal for guerilla operations.
The Talos remained a military secret until YC113, when it was introduced into wider circulation as a third-tier battlecruiser. Today the Talos is manufactured by Duvolle Labs, who modified the original ORE designs to bring it in line with Gallente standards.
Bonuses
Role Bonus
–95 Powergrid Requirement
–50 Capacitor Need
Advanced Battlecruiser Engineering Bonus per Lv.
+5 Damage
+5 Tracking Speed
Advanced Battlecruiser Command Bonus per Lv.
–5 Inertia Modifier
–4 Signature Radius
Attributes
Can be insured: No
Cargo Hold Capacity: 1,200 m3
| | |
| --- | --- |
| Powergrid Output | 960 MW |
| High Slots | 6 |
| Mid Slots | 3 |
| Low Slots | 5 |
| Drone Slots | 1 |
| Engineering Rig Slots | 3 |
| Powergrid Rig Slots | 3 |
Defense: 20,666
 
Shield
4,938 / 58,700 S
Armor
5,956
Structure
6,074
Electromagnetic
0.00%
50.00%
33.33%
Thermal
20.00%
35.00%
33.33%
Kinetic
40.00%
36.25%
33.33%
Explosive
50.00%
10.00%
33.33%
Capacitors: 2,953 GJ
Capacitor Recharge Time
540 S
Max Capacitor Recharge Rate
13.7 GJ/S
Max Locked Targets: 7
Signature Radius
248.3 m
Scan Resolution
240 km
Sensor Strength
22.4
Flight Velocity: 182 m/s
Warp Speed
2.7 AU/s
Mass
15,552,000 kg
Inertia Modifier
0.34 times
---