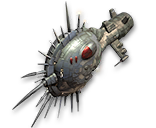 Phantasm
Tech Level: N/A

Sansha's Nation
---
As with other Sansha's Nation ships, not much is known about the origin of this design. Its form, while harshly alien in shape, bears the marks of extremely advanced physics research. Its lines and corners coalesce to form a shape with a resilience and structural integrity that are hard to match. Coupled with its advanced hard-point technology and an extremely efficient power core, the Phantasm's legendary status is well-deserved.
Bonuses
Role Bonus
+1 Max Shield Field Modules
Advanced Medium Laser Operation Bonus per Lv.
+15 Damage
+7.5 Tracking Speed
Advanced Cruiser Command Bonus per Lv.
+25 Speed Increase
+5 Shield
Attributes
Can be insured: No
Cargo Hold Capacity: 820 m3
| | |
| --- | --- |
| Powergrid Output | 1,086 MW |
| High Slots | 4 |
| Mid Slots | 3 |
| Low Slots | 5 |
| Drone Slots | 1 |
| Engineering Rig Slots | 3 |
| Powergrid Rig Slots | 3 |
Defense: 20,346
 
Shield
6,666 / 60,200 S
Armor
5,048
Structure
4,966
Electromagnetic
0.00%
50.00%
33.33%
Thermal
20.00%
35.00%
33.33%
Kinetic
40.00%
25.00%
33.33%
Explosive
50.00%
19.00%
33.33%
Capacitors: 4,657 GJ
Capacitor Recharge Time
600 S
Max Capacitor Recharge Rate
19.4 GJ/S
Max Locked Targets: 7
Signature Radius
83.3 m
Scan Resolution
298 km
Sensor Strength
21.7
Flight Velocity: 253 m/s
Warp Speed
3 AU/s
Mass
9,600,000 kg
Inertia Modifier
0.4 times
---