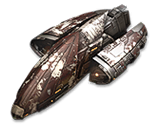 Cruor
Tech Level: N/A

Blood Raider
---
Dark red, mottled, and shaped like a leech, the Cruor presents a fitting metaphor for the Blood Raiders' philosophy. Designed almost solely to engage in their disturbingly effective tactics of energy draining and stasis webbing; this ship is a cornerstone of any effective Blood Raider fleet. Alternatively, it could also play an intriguing role in more standard ones.
Bonuses
Role Bonus
–100 Energy Nosferatu overload penalty
Advanced Electronic Warfare Bonus per Lv.
+15 Absorption Efficiency
+15 Neutralizing Effect
+20 Optimal Range
Advanced Frigate Command Bonus per Lv.
+20 Damage
+7.5 Tracking Speed
Attributes
Can be insured: No
Cargo Hold Capacity: 270 m3
| | |
| --- | --- |
| Powergrid Output | 88 MW |
| High Slots | 3 |
| Mid Slots | 3 |
| Low Slots | 3 |
| Drone Slots | 0 |
| Engineering Rig Slots | 3 |
| Powergrid Rig Slots | 3 |
Defense: 4,216
 
Shield
890 / 8,700 S
Armor
1,283
Structure
1,162
Electromagnetic
0.00%
50.00%
33.33%
Thermal
20.00%
35.00%
33.33%
Kinetic
40.00%
25.00%
33.33%
Explosive
50.00%
19.00%
33.33%
Capacitors: 905 GJ
Capacitor Recharge Time
242 S
Max Capacitor Recharge Rate
9.3 GJ/S
Max Locked Targets: 5
Signature Radius
26.5 m
Scan Resolution
861 km
Sensor Strength
13.7
Flight Velocity: 378 m/s
Warp Speed
5 AU/s
Mass
1,003,000 kg
Inertia Modifier
2.7 times
---