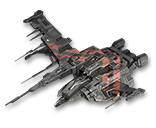 Raven Striker
Tech Level: X

Caldari
---
Due to the increasing number of battles in which Capital Ships cannot participate, every nation now needs powerful battleships of a more suitable size. Modifying smaller ships for increased firepower has therefore become a new trend in New Eden.
Bonuses
Advanced Large Missile/Torpedo upgrade Bonus per Lv.
+5 Damage
–5 Activation Time
+5 Flight Velocity
Advanced Battleship Command Bonus per Lv.
Attributes
Can be insured: No
Cargo Hold Capacity: 1,330 m3
| | |
| --- | --- |
| Powergrid Output | 10,359 MW |
| High Slots | 7 |
| Mid Slots | 4 |
| Low Slots | 6 |
| Drone Slots | 2 |
| Engineering Rig Slots | 3 |
| Powergrid Rig Slots | 3 |
Defense: 66,923
 
Shield
24,091 / 409,200 S
Armor
16,263
Structure
16,509
Electromagnetic
0.00%
50.00%
33.33%
Thermal
20.00%
44.75%
33.33%
Kinetic
40.00%
25.00%
33.33%
Explosive
50.00%
10.00%
33.33%
Capacitors: 11,321 GJ
Capacitor Recharge Time
921 S
Max Capacitor Recharge Rate
30.7 GJ/S
Max Locked Targets: 8
Signature Radius
359.2 m
Scan Resolution
112 km
Sensor Strength
34.3
Flight Velocity: 100 m/s
Warp Speed
2.5 AU/s
Mass
99,300,000 kg
Inertia Modifier
0.12 times
---