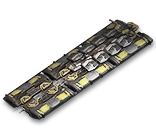 Humpback Hauling
Tech Level: X

InterBus
---
The Humpback's design is based on ORE's Orca. InterBus enhanced its transporting capacity and removed its mining functions.
The Humpback has an incredible hauling capacity. The Hauling model is great for transporting goods, but not very good at anything else.
Bonuses
Role Bonus
Expert Freight Bonus per Lv.
+5 Delivery Hold Capacity
Expert Industrial Ship Command Bonus per Lv.
Attributes
Can be insured: No
Cargo Hold Capacity: 6,000 m3
Delivery Hold Capacity: 1,296,000 m3
| | |
| --- | --- |
| Powergrid Output | 5,228 MW |
| High Slots | 3 |
| Mid Slots | 3 |
| Low Slots | 4 |
| Drone Slots | 0 |
| Engineering Rig Slots | 3 |
| Powergrid Rig Slots | 3 |
Defense: 59,474
 
Shield
21,679 / 374,100 S
Armor
19,875
Structure
10,475
Electromagnetic
0.00%
50.00%
33.33%
Thermal
20.00%
35.00%
33.33%
Kinetic
40.00%
36.25%
33.33%
Explosive
50.00%
10.00%
33.33%
Capacitors: 8,331 GJ
Capacitor Recharge Time
1,121 S
Max Capacitor Recharge Rate
18.6 GJ/S
Max Locked Targets: 9
Signature Radius
450.3 m
Scan Resolution
42 km
Sensor Strength
32.8
Flight Velocity: 75 m/s
Warp Speed
1.5 AU/s
Mass
150,000,000 kg
Inertia Modifier
0.29 times
---