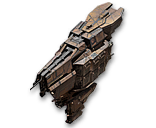 Rupture
Tech Level: VI

Minmatar
---
The Rupture is slow for a Minmatar ship, but makes up for it in power. The Rupture has superior firepower and is used by the Minmatar Republic, both to defend space stations and other stationary objects. Furthermore, it is a part of the Minmatar's massive attack formations.
Bonuses
Shield Operation Bonus per Lv.
Cruiser Command Bonus per Lv.
+5 Tracking Speed
–5 Activation Time
Attributes
Can be insured: No
Cargo Hold Capacity: 900 m3
| | |
| --- | --- |
| Powergrid Output | 629 MW |
| High Slots | 4 |
| Mid Slots | 2 |
| Low Slots | 5 |
| Drone Slots | 1 |
| Engineering Rig Slots | 2 |
| Powergrid Rig Slots | 2 |
Defense: 12,587
 
Shield
3,969 / 46,100 S
Armor
3,533
Structure
3,129
Electromagnetic
0.00%
60.00%
33.33%
Thermal
20.00%
35.00%
33.33%
Kinetic
40.00%
25.00%
33.33%
Explosive
50.00%
10.00%
33.33%
Capacitors: 2,031 GJ
Capacitor Recharge Time
498 S
Max Capacitor Recharge Rate
10.2 GJ/S
Max Locked Targets: 6
Signature Radius
90 m
Scan Resolution
269 km
Sensor Strength
12.3
Flight Velocity: 288 m/s
Warp Speed
3 AU/s
Mass
12,200,000 kg
Inertia Modifier
0.36 times
---